A Project by:
Tony / I2TZK, Frank / K7SFN , Dinesh / VU2FD
END OF PROJECT
AAZ-0616:
This Revision (AAZ-0616) has following changes to AAZ0914A board design:
1. HC05 Module directly fits on board
2. Dual, auto select power option: PC use or Portable use: Standard USB or Mini USB from Power Bank (BT Only)
3. Bluetooth module (HC05) function auto selected when powered from Mini-USB/Power Bank
Except above mentioned three board changes, AAZ-0616 is basically same as AAZ-0914A.
AAZ-0616 uses same FW as last version AAZ-0914A, that is : V6.02.
A PC program for WIN7/XP is available for AAZ-0616. Latest dotnet update is essential.
Firmware, Software for AAZ-0616 is developed by Tony/I2TZK.
AAZ-0616 is a simple single board USB Antenna Analyzer using DDS signal as a source and a return loss bridge is used for measurement by a Log Amplifier AD8307
BT function is realized by using an HC05 module. However, its not possible to provide user support for BT operation as each android phone/tab has specific permissions and need that users do the necessary settings to their phone/Tab. BT operation is tested on Samsung Tab3 with good results.
A free metal case is supplied with kits/assembled.

USB Antenna Analyzer AAZ-0616: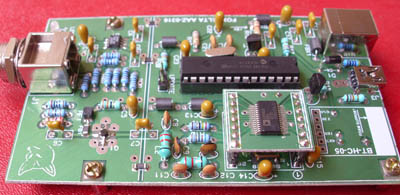 Click to enlarge