FC3-0812: 50/500MHZ PIC18F4550 Counter & RF Meter
Project by:

Tony/I2TZK, Frank/K7SFN , Dinesh/VU2FD
---
This project :FC3-0812: is discontinued.
Present FC3 project is here........
FC3-0812: Frequency Counter cum RF Meter project detailed here is based on PIC18F4550

Interesting features of this project:

1. Its USB and DC12V Powered

2. Measures RF Level using AD8307

3. Count frequency to 50MHZ and 500MHZ

4. 2 x 16 LCD Display with BL

5. Signal Level measurement in dbm, vpp and rms

6. 50 ohms input impedance for both ranges

7. Frequency "off-sets" set by PC program.

8. Free PIC Firmware & PC WIN Software by Tony/I2TZK

Counter is designed on a double sided PTH Board and works on USB or external DC12V power.

Fc3 is designed and developed for Radio Amateurs looking for economical frequency counter for their hobby work and wish to measure RF signal Level at the same time.
Analog Device's AD8307 is used to measure RF level very accurately in DBm, Vpp or RMS.
Counter works with PC or as a Stand-alone. PC Connection is auto detected and so is stand-alone mode.
Front panel push buttons are provided for RF Meter Mode and HF to VHF Frequency measurement modes.
A PC program is specially designed for FC3 by Tony/I2TZK is provided for configuration of IF Off-sets and AD8307 related parameter configuration thru USB interface.
FC3 Complete KIT uses (and Includes) AD8307, ADA4789 and MC12080 in SMT package and are supplied pre-soldered on PCB for those who do not like to solder these tiny devices. Assembled FC3 may also be available but buyer need to calibrate RF Measurement using PC software.
Kits and assembled FC3 are available. Only use Standard Osc provided with kits. Do not use TCXO in place of supplied Osc as the TCXO is not yet tested by me.
Completed Frequency Counter: FC3-0812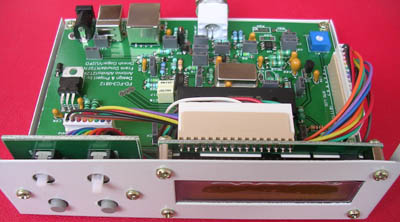 Click the picture to enlarge
FC3-0812 Another View: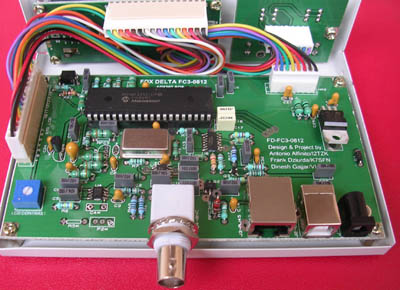 Click the picture to enlarge
LCD HF/VHF Mode and RF Meter LCD Menu:
HF 1S Gate Mode

HF 10S Gate Mode

VHF (100 to 500MHZ) Divide by 10 MODE

2MTR Signal Measurement:

Click to enlarge
FC3-0812 Schematic & Documents:

FC3-0812 50/500MHZ Frequency Counter Document


FC3-0812 Schematic & Parts List


FC3 User Guide


FC3-0812 Schematic
Part A
JPG
Part B
JPG
Datasheets

PIC18F4550


BFR93A


74VHC00


AD8307


MCP1525 -2.5


ADA4789

PC Config Software

FC3 PC Software and FW by Tony / I2TZK
V2.04


Visit I2TZK Web Site

Buy On-Line
For online payments, shipping charges will be added on secure web page, which are from $5.00 upwards for Registered Air Mail, and based on value/weight of the KIT/Assembled.
"Buy from 2CO", you may pay using your CC or funds from

Paypal.
You may also visit our

Shopping cart to buy and make Direct Paypal Payments.
Terms of sales
US $
Buy On-Line
In stock now

FC3-0812: 50/500MHZ LCD Frequency Counter and RF Meter Kit
Revised to FC3-0314
Parts List for FC3-0812
---