A Project by:
Tony / I2TZK, Frank / K7SFN , Dinesh / VU2FD
Dual Channel 500MHz RF Meter: Graphic CPU
Graphic CPU used in PM4 is a a core of our "INFINITY" Project and is developed keeping in mind that we use same CPU/LCD/Hardware for various Purposes or Projects, saving a lot of money in hardware.
This is important for homebrewers because RF measurement some times, is only a one time a month (or a year!) requirement in a Radio Room!!
PM4 is designed to work as a standalone unit. A PC program may be available in future from Tony/I2TZK.
PM4 is a dual channel 500MHZ RF Meter, designed in two parts, interconnected by a D9 Male to Male Cable (usually supplied with Graphic LCD/CPU KIT):
1. Graphic CPU and
2. Sensor unit with 2 X AD8307 Log amplifiers
PM4 Graphic CPU-0613: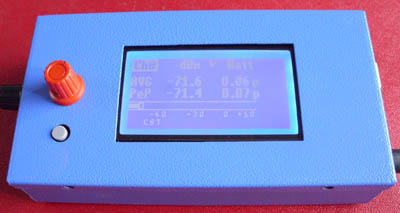 Click above picture for larger view
PM4 Sensor Board with 2 X AD8307s: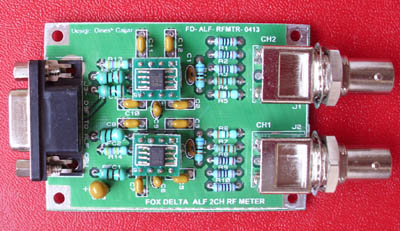 Click above picture for larger view
PM4 RF Meter Hardware Details:
Graphic CPU with PIC18F4550
Graphic CPU hardware details:

| | |
| --- | --- |
| | |
| | 128 x 64 Graphic LCD with Back light control |
| | |
| | DC12V or USB Powered |
| | |
| | Expansion slot for relays and alarms (FRC16) |
| | |
| | 8 DIP Switches for CPU Configuration |
| | |

RF Measurement Sensor has Two AD8307s and BNC Connectors

Powder Coated Free Cases for CPU and Sensor.