A Project by:
Tony / I2TZK, Frank / K7SFN , Dinesh / VU2FD
This project is upgraded to AAZ-0217MX
AAZ-0217A: 3 to 60MHZ Antenna Analyzer
AAZ-0217A is a simple single board USB Antenna Analyzer using Si5351 signal source generator chip and a return loss bridge, for measurement by a Log Amplifier AD8307
This Revision :
1. Uses Si5351 as a signal Generator. Lower freq limit to 3MHZ as strong harmonics below 3MHZ may not be suitable for measurement. Upper limit of 60MHZ restricted by LPF.
2. Dual, auto power select option: PC use or Portable use
3. Optional Bluetooth module (HC05): Activation function auto selected when module inserted into FRC16 Socket.
4. Project uses Si5351 chip on a plug in module which is supplied fully assembled and tested for kits.
5. Technically restricted to upper limit of 60MHZ but FW/SW is capable of generating 160MHZ. Similarly, lower than 3MHZ available but with poor results.
6. Expansion socket (FRC16) is for future use of a Bluetooth add-on module or a WiFi Module, with necessary changes in FW. Supports RX/TX and I2C + External Power input.
A PC program for WIN7/XP is available for AAZ-0217A. Works well with WIN10 too but may require user to set necessary permissions for WIN10 OS. Latest dotnet update is essential for your WIN OS.
Firmware V1.02 and Software V 1.02 for AAZ-0217A is developed by Tony/I2TZK.
A free metal case is supplied with kits/assembled.

USB Antenna Analyzer AAZ-0217A: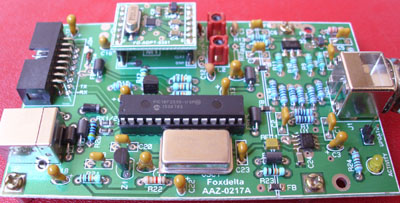 Click to enlarge

Si5351 Module:( Details )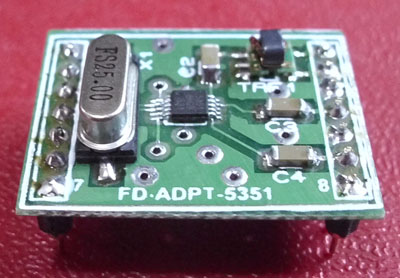 Click to enlarge