A Project by:
Tony / I2TZK, Frank / K7SFN , Dinesh / VU2FD
This project is revised as: AAZ-0217
AAZ-0713A:
35MHZ Antenna Analyzer: AAZ-0713A:
AAZ-0713A is designed to work as a standalone USB Antenna Analyzer like AAZ0912 and suitable to works with a Graphic LCD Display.
A PC program is available for using AAZ-0713A as a PC based USB antenna analyzer, like our most popular AAZ-0912. Firmware for Graphic CPU and Antenna Analyzer - 0713 are developed by Tony/I2TZK.
AAZ-0713A is a simple single board antenna analyzer using DDS signal as a source and a return signal from antenna is used for measurement by a Log Amplifier AD8307
AAZ-0713A is Project "INFINITY" Module:
Graphic CPU which may be used with this Antenna Analyzer is a core of our "INFINITY" Project and is developed keeping in mind that we use same CPU/LCD/Hardware for various Purposes or Projects, saving a lot of money in hardware.
AAZ-0713A is designed in two parts:
1. Graphic CPU Board: GCPU-0613 and
2. Antenna Analyzer Board: AAZ-0713A
A D9 Male to male cable (supplied with Graphic CPU KIT) is required to interconnect two units. Communication from CPU to Antenna Analyzer is by way of serial data fed to USB port. (It uses I2C lines of Graphic CPU for this purpose and USB data lines of AAZ-0713)
Antenna Analyzer AAZ-0713A has more possibilities:
1. USB Interface: for your PC (same like AAZ-0912)
2. Use with Graphic LCD CPU-0613 to operate without a PC.
3. with a BT interface, use your Android phone as display
Compatibility with AAZ-0912:
If you like to have a Graphic Display for your AAZ-0912 board, you need not buy or build this AAZ-0713. Just make yourself a simple USB to D9M cable, do a small modification on AAZ-0912 board and you are ready to use Graphic LCD Display for your AAZ-0912.
Modification to AAZ-0912 board as suggested by Tony/I2TZK is here: (these are also implemented on this AAZ-0713 design):

Design Change from Last Version of AAZ-0713:
AAZ-0713A uses ERA-3SM from Mini Circuits in place of ADA4789 amplifier. No other design changes.
Antenna Analyzer AAZ-0713A and Graphic CPU-0613: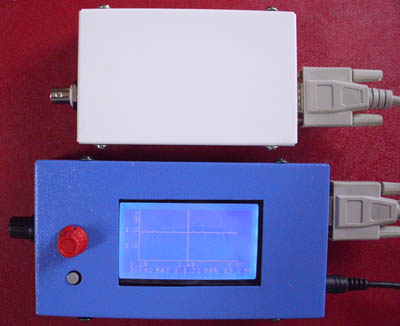 Click above picture for larger view
Antenna Analyzer- 0713A: Standalone USB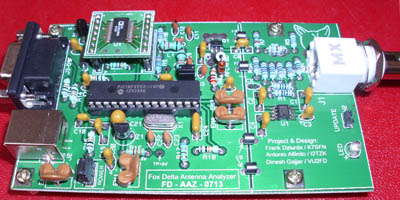 Click above picture for larger view
Graphic Antenna Analyzer Hardware Details: