A Project by:
Tony / I2TZK, Frank / K7SFN , Dinesh / VU2FD
AAZ-0914A: 50MHZ USB Antenna Analyzer :
AAZ-0914A is designed to work as a standalone USB Antenna Analyzer, like last version AAZ-0713A.
This Revision addresses changes in design to facilitate adding a Blue tooth module and a breakout board for expansion.
Firmware for AAZ-0914A is re-written to make things easier for changing over from USB to Blue tooth or GCPU. AAZ-0914A uses V6.02 PC software.
A PC program for WIN7/XP is available for AAZ-0914A. Latest dotnet update is essential.
Firmware, Software for AAZ-0914A and Graphic CPU is developed by Tony/I2TZK.
AAZ-0914A is a simple single board antenna analyzer using DDS signal as a source and a return signal from antenna is used for measurement by a Log Amplifier AD8307
AAZ-0914A:

USB Antenna Analyzer AAZ-0914A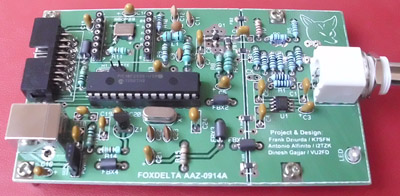 Click to enlarge